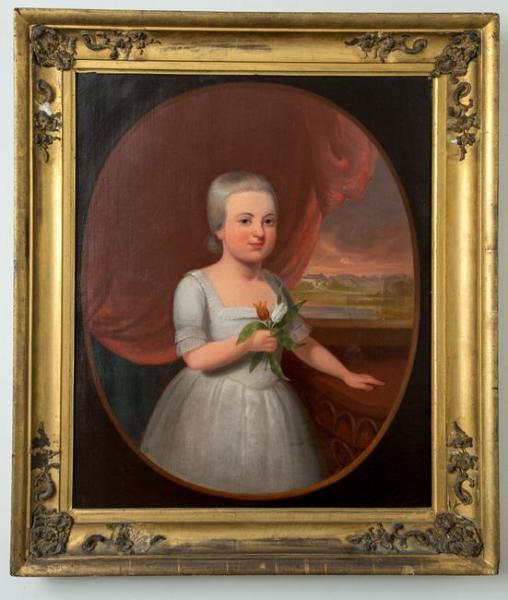 18th C. oil on canvas portrait of Mary Byvanck, born
in New York City in 1772. The portrait was painted at six or seven years of her age. Her claim to fame was that when George Washington was visiting her family in New Jersey after the Kips Bay retreat, GW toasted Mary in front of his troops. Although unsigned, this portrait may have been painted by a member of the Peale family. The frame appears to be original and measures 37 1/2" high by 32 1/2" wide.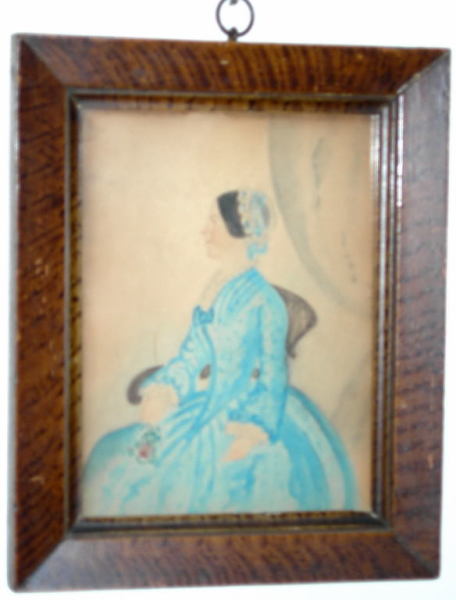 Rare 18th C. New England watercolor portrait of a seated lady in a blue dress. The style of the dress is mid 18th Century with its elongated bodice terminating in a low V, set into a skirt of folds suggesting a domed hoop underneath. her upright posture is typical of the period from wearing a stomacher, long-waisted stays or corset. Her hair is tucked under a mid 18th Century small lace cap. In verso is a delicate drawing of this young woman by the artist, showing through an aperture cut into the pit sawn backboard. The frame measures 10 1/4" by 8 1/2".